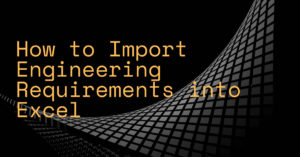 Requirements can be imported into Microsoft Excel by following these steps:
Determine Source: Determine the source of the requirements, such as a text file, database, or web page.

Prepare Source Data: Prepare the source data by ensuring that it is in a format that can be imported into Excel, such as CSV, TXT, or XLS.

Open Excel: Open Microsoft Excel and select the appropriate sheet or workbook for the imported requirements.

Import Data: Use Excel's "Data" tab to select the "From Text" or "From Other Sources" option and import the requirements data.

Map Columns: Map the columns of the imported data to the appropriate columns in Excel.

Verify Data: Verify that the imported data is accurate and matches the expected format.

Clean Data: Clean the imported data as necessary, such as removing duplicates or formatting the data.

Save Workbook: Save the workbook with the imported requirements data.
But instead of using Excel, you could use a tool that connects components and requirements to technical values and do proper parametric design…