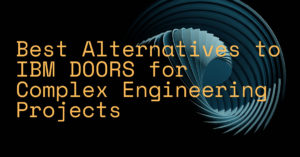 When it comes to requirements management, there are a variety of tools available to engineers and project managers. 
IBM DOORS® is one such tool, but it's sometimes criticised by engineers for its unnecessary complexity. 
Let's explore alternative tools to IBM DOORS® and provide a brief overview of each, so that you can determine which option is the best for your needs.
Valispace:

A cloud-based platform that enables teams to manage their engineering data and design in one central location, including requirements, simulations, and testing.




Valispace links requirements and components to engineering and technical data, allowing for proper parametric design and ensuring that engineers get better insights on their overall project.



ReQtest:

A web-based platform that helps software development teams manage requirements, traceability, and testing, as well as track bugs and issues.



Polarion:

A complete application lifecycle management platform that integrates requirements, test case, and quality management into a single system.



Helix RM:

A requirements management tool that helps software development teams manage the complete lifecycle of their requirements, including capturing, tracking, and reporting.
Instead of using IBM DOORS® for requirements management, you could use a tool that connects components and requirements to technical values and do proper parametric design.
See how requirements are broken down in Valispace with this detailed step by step guide.