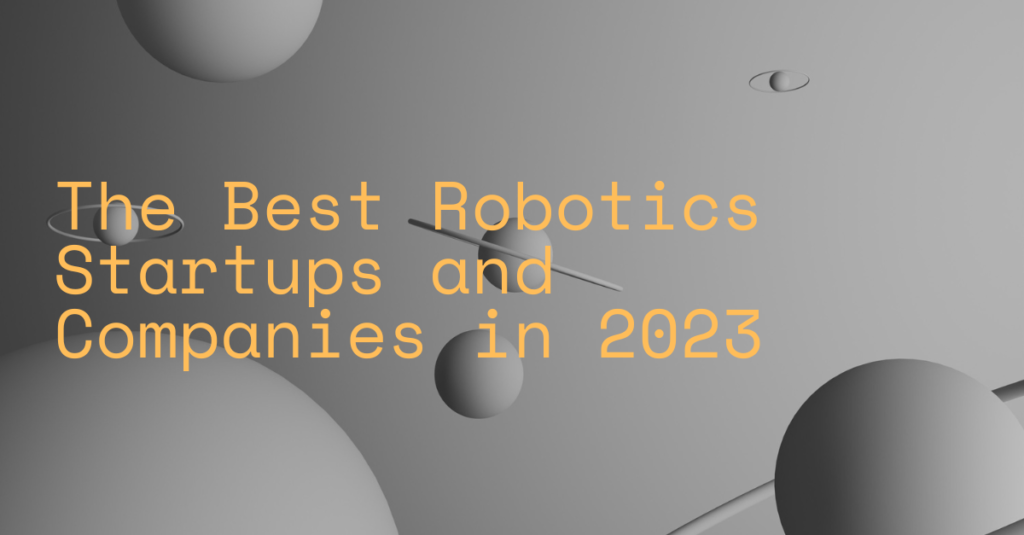 The area of robotics is expanding at a fast pace, with significant implications for society. Robots are changing the face of several industries, from manufacturing to healthcare. Many new companies have developed in recent years with the goal of creating cutting-edge robotics technology. These businesses are using state-of-the-art technologies like AI, ML, and CV to build robots with unprecedented levels of intelligence, productivity, and versatility.
Here are ten of the best robotics startups leading the charge in this exciting field:
Boston Dynamics
Boston Dynamics is an American robotics company that has been at the forefront of innovation since its founding in 1992. SpotMini, a four-legged robot, is among their most well-known products, along with the humanoid Atlas and the wheeled Handle.
UiPath
Founded in 2005 and headquartered in New York City, UiPath is a frontrunner in the industry of robotic process automation (RPA). In order to free up time for staff to concentrate on more strategic endeavors, firms may use UiPath's software platform to automate manual and repetitive operations.
Suitable Technologies
Suitable Technologies is an innovative robotics company that has been at the forefront of telepresence technology since its founding in Palo Alto, California, in 2013. The telepresence robot is their best-selling item since it enables distant employees to join in on meetings and communicate with their coworkers in real time.
KUKA 
Established in 1898 and now headquartered in Augsburg, Germany, KUKA Robotics is a forerunner in the field of industrial robot design and manufacture. Manufacturing, logistics, and healthcare are just some of the fields that may benefit from KUKA's extensive selection of robots.
Locus Robotics
Locus Robotics, established in Wilmington, USA in 2015, is a leading manufacturer of mobile robots that can operate independently. Their self-driving mobile robot has proven to be a hit in distribution centers and warehouses.
Rethink Robotics
The Boston, United States-based startup Rethink Robotics, founded in 2008, was an early leader in the emerging area of collaborative robots (cobots). The Baxter robot, which could be used in factories, labs, and classrooms, was their most well-known creation.

6 River Systems
6 River Systems is an industry-leading supplier of collaborative robots; it was founded in 2015 and is headquartered in Waltham, Massachusetts, USA. The collaborative robot used in factories and warehouses is their best seller.
Kindred
Kindred – Founded in 2015 in Toronto, Canada, Kindred is a leading AI-powered robotics company. Their most popular product is the AI-powered robot for e-commerce and retail.
Softbank Robotics
SoftBank Robotics is a Tokyo-based division of the SoftBank Group, a Japanese telecommunications conglomerate, that was founded in 2015. Pepper, developed by SoftBank Robotics, is a humanoid robot that can interact with humans for service and entertainment purposes.
Intuitive Surgical
Located in Sunnyvale, California, Intuitive Surgical was established in 1995 and is a leading developer of robotic surgical equipment. The da Vinci Surgical Device, a robot-assisted surgical system used in keyhole procedures, is their flagship product.
These young businesses are among the many that are pioneers in the robotics industry. Today is an exciting moment to be involved in robotics, as new technologies are rapidly transforming the industry, and these firms are at the forefront of this revolution.
Valispace: Helping to Scale Robotics Startups with a Clever Engineering Platform
In terms of new technologies for developing robots, don't look past Valispace.
Valispace is a low-cost engineering software solution and has already helping robotics startups successfully develop and launch for a multitude of industries and uses. One of its distinguishing features is its ability to connect requirements to engineering data, allowing development teams to track and manage needs in real-time while simulating and testing various system configurations. This can reduce delays and rework, saving time and money. Valispace is also simple, allowing development teams to get up and running quickly. Valispace is designed to be scalable, allowing startups and scale-ups to scale up or down as their business evolves.
Valispace may be the appropriate fit for your needs if you're a startup or scale-up searching for a modern engineering software solution to streamline your development process.
Book a call with a Valispace expert today and see how it fits into the needs of your bespoke project.