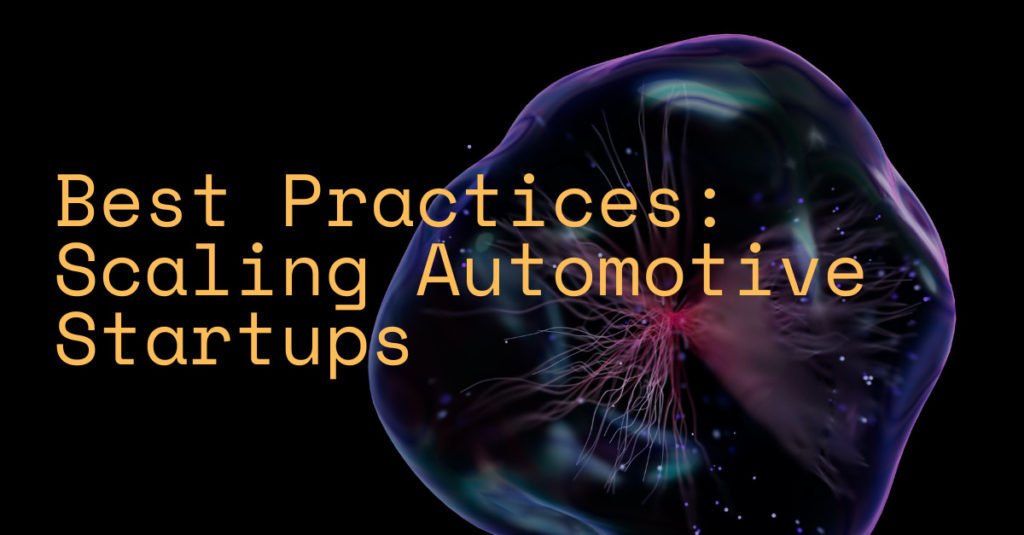 Innovations in electric and self-driving car technology are propelling the automobile industry into a time of rapid transition.
This presents both challenges and opportunities for new enterprises in the automotive engineering sector. Scaling a startup, on the other hand, is a challenging task. 
Startups that want to grow and thrive in the long run should think carefully about the strategies and best practices that will bring them there.
In this article we'll take a look at:
Building strong relationships with key stakeholders
Implementing lean business processes
Staying ahead of the competition
Defining the Unique Selling Proposition of your Startup
Finding your company's specialization is a critical initial step in expanding an automobile engineering organization. 
What distinguishes your firm from others in its field? Can you give an honest appraisal of your key strengths and weaknesses?
You must answer these questions if you want to establish a clear and convincing value offer. This will help you concentrate your efforts and develop a future growth strategy.
Another crucial step in establishing your company's popularity is creating a memorable brand name that expresses your value offer.
Investing in Research and Development
If you want to keep your competitive edge, you must invest in R&D.
Investing in R&D and creating strategic collaborations with educational and scientific organizations are required to promote innovation.  Keeping up with the newest innovations in your industry may help you produce better goods and services while also demonstrating your commitment to being a market leader.
Build Strong Relationships with Key Stakeholders
Developing strong relationships with key stakeholders is also critical for a company's success in the automotive engineering business. 
Consumers, vendors, joint venture partners, and regulatory authorities are all fair game. Building strong relationships with these parties can not only help your company, but will also create possibilities for future collaboration and development. 
More engagement from the broader community will aid both the expansion of the vehicle sector and the establishment of a welcoming ecosystem for new firms.
Implementing Lean Business Processes
Adopting a lean mentality and putting lean business practices into place are crucial for streamlining operations and cutting expenses. This entails utilizing data-driven decision-making and agile project management practices to make sound business judgments.
Lean processes can benefit greatly from the use of modern engineering platforms like Valispace.
Valispace's real-time management and tracking of complex engineering data and procedures helps to eradicate silos and minimize waste, resulting in a more streamlined and effective process. By adopting a lean methodology and making use of cutting-edge solutions like Valispace, new businesses can concentrate on satisfying their clients while cutting costs and increasing productivity.

Scaling Startups by Keeping Ahead of the Competition
Finally, long-term success necessitates surpassing opponents on a continual basis. 
This entails keeping an eye on market movements and new technologies, creating and delivering new and improved services on a regular basis, providing excellent customer service, and maintaining a good reputation for the firm. 
By implementing these measures, new firms may swiftly ascend to the top of their respective areas and position themselves for long-term success.
Startup Hyper-growth with Valispace
Before an automobile engineering business can begin to grow, a number of essential approaches and best practices must be considered.
By developing your unique value offer, investing in R&D, building strong relationships with key stakeholders, implementing lean business practices, and staying ahead of the competition, startups may position themselves for success in the fast-paced and quickly evolving automotive market.
In terms of new technologies for developing all kinds of modern vehicles, don't look past Valispace.
Valispace is a low-cost engineering software solution and is helping automotive companies develop industry-challenging vehicles. 
One of its distinguishing features is its ability to connect requirements to engineering data, allowing development teams to track and manage needs in real-time while simulating and testing various system configurations. 
This can reduce delays and rework, saving time and money.
Valispace is also simple, allowing development teams to get up and running quickly. Valispace is designed to be scalable, allowing startups and scale-ups to scale up or down as their business evolves.
Valispace may be the appropriate fit for your needs if you're a startup or scale-up searching for a cost-effective engineering software solution to streamline your development process.
Book a call with a Valispace expert today and see how it fits into the needs of your bespoke project.