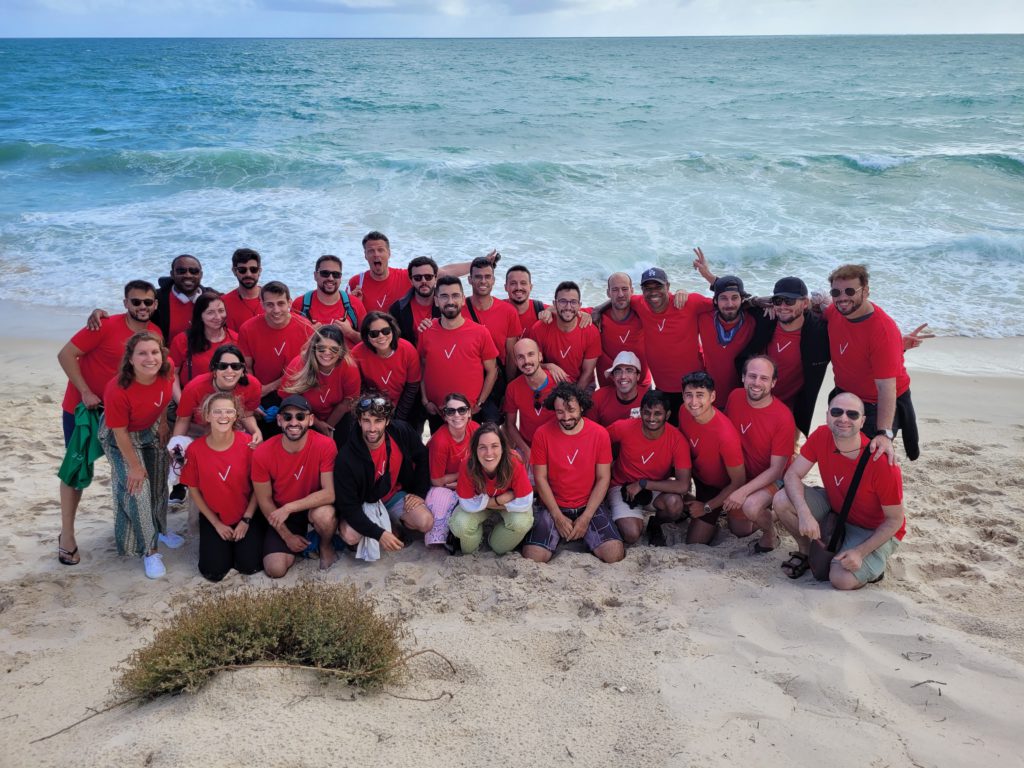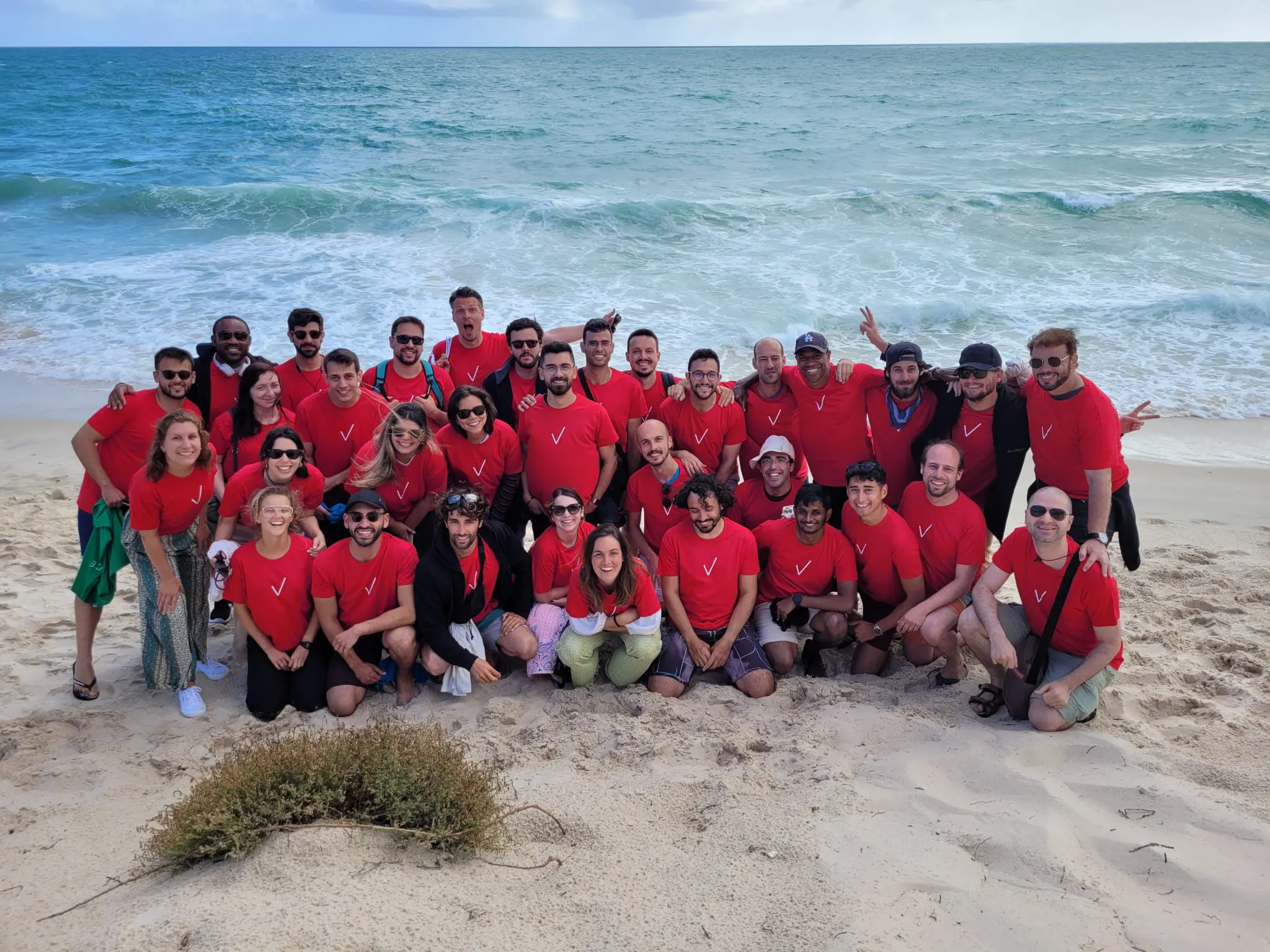 Valispace has become a remote friendly company. What does this mean?
The team can work from home or from the office. An office budget will be provided to cover anything needed to work efficiently from home;

Our hiring focus is for candidates based in Portugal but we're flexible on where they decide to work from;

We try to make the office a great place to get together, brainstorm and share ideas;

Acknowledgement that sometimes, the best brainstorming happens in person. So we've created

boost weeks

where at certain points during the year, departments will get together in the office in Lisbon to imagine, strategize and create. Travel and accommodation during these boost weeks is covered by Valispace.
Coming up with a modern and ambitious remote working policy is not easy and does not happen overnight. It requires balancing the varied opinions of team members and taking into account the vision of the founders.
The people team at Valispace realized that it's important to keep in mind that not everything is about salaries or how cool an office looks and feels. It's also about the way team members are heard and integrated into the design of processes and decisions that have a direct impact on their work.
The following is an exploration of the context of why a new remote policy was needed, and the thought process of the people team that led to its implementation.
Why a new remote policy was needed
There's one thing everyone can agree on: work and life after the pandemic are not the same. This was already clear after the first 3 months of isolation, where working from home was no longer the exception but the expectation.
For a company like ours that values human connection, organizes team building every other month and never says no to a good meal, the growing distance between team members posed a lot of doubts and fears, but also opportunities. It gave us the change to look inward and understand how we could redesign work/life integration at Valispace. 
We had to answer tough questions, such as:
How do we ensure diversity if we only hire in Portugal?

Do we provide a home office budget even though we have an office that everyone can work in?

We're already flexible with work schedules, should we also strive to be flexible about work locations?

Can we select which countries the team could work from?

Do we support travel and accommodation for employees who work remotely but want to connect with the team?

Do we give priority to flexibility or proximity?
We knew that the Leadership Team and the People team couldn't solve this puzzle alone, so the first obvious step was asking the team about their preferences. 
There was no clear and straight-forward path to follow but instead some uncertainty, intense debate and iterations. When discussing our findings, two ideas became certain:
Everyone valued and craved human connection

Everyone wanted flexibility
At Valispace, remote work was always an option but it was never seen as the norm and it mostly meant that you were allowed to work from home for specific situations. Once the pandemic hit, we realized that our concept of remote work was narrow and that it wasn't going to work long term for employees who had returned to their hometowns and weren't planning on coming back to the city anytime soon.
If the employees were happy and as productive as before (if not even more!), what was our reason to make them move to Lisbon solely to come to an empty office against their will? If companies in other countries were allowing for a fully remote set-up, what added-value were we giving to employees that would convince them to stay in an in-person first type of company? 
Assessing the importance of team connection 
We thought about all these questions and many more. There were lots of iterations between the Leadership Team, the People Team and all team members to figure out how work at Valispace would look like once COVID stopped keeping us away from each other. Besides having no idea of how the world would change after COVID, we also had limited resources and limited reliable findings on organizations that implemented a fully successful remote setup. 
In addition to the logistics and operational questions, it was hard to assess how the pandemic would mentally impact our team members. To start having a better picture on how the team was whilst working from home, we launched the "How-are-you?" survey where we regularly ask questions related to the employees well being at work and at home. 
Through the findings of the survey, we realized that the more stressful life outside of work was, the less satisfied and motivated employees were. Therefore, it was clear that providing a healthy setup outside of the office was just as important as providing one at the office – both need to coexist.
The ValiRetreat in 2021 was a turning point in our remote work mindset as it showed us the power of connection. Through the 'How-are-you?' surveys we understood that in-person touchpoints are a necessity for the wellbeing of each employee and the team as a whole. 
Before our ValiRetreat in September 2021, only 19% of the respondents claimed that they felt strongly connected to the team. 54% felt connected while 23% were neutral. 
Surprisingly, after the ValiRetreat, 38% of the respondents claimed that they felt strongly connected to the team and 52% felt overall connected. Only 8% of the survey respondents felt neutral. 
The comparison of the data before and after the retreat can be seen in these charts: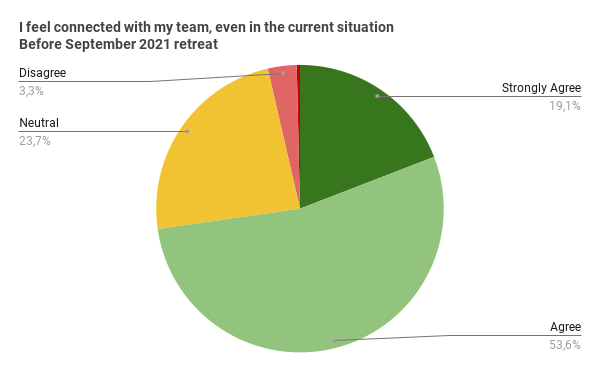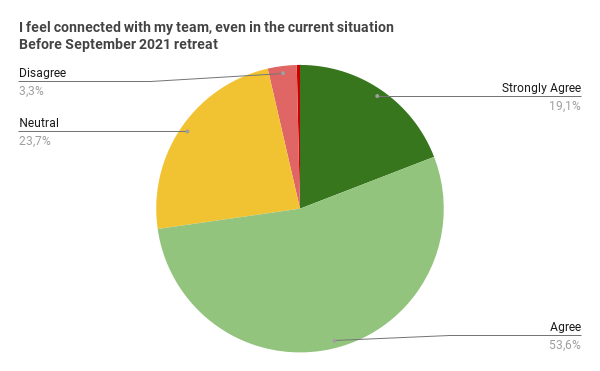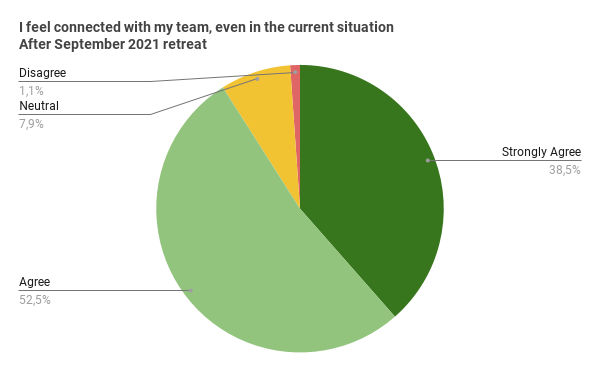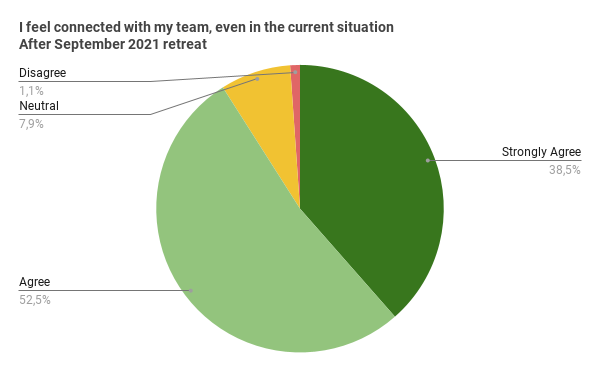 After the ValiRetreat, 91% of the respondents felt overall positively connected – an increase of 25% in comparison to how the team felt before the Team Retreat. Similarly, the amount of responses that were either negative or neutral fell by 18%.
Looking at the survey, we can also see that after each in-person teambuilding activity, specifically after the ValiRetreats and Christmas Dinners, there are no neutral nor negative replies towards feeling connected to the team.
So, what is Valispace's remote-friendly policy?
The philosophy behind our remote friendly work set-up is that we embrace flexibility and autonomy as principles to give everyone in the team options as to when, where and how they do their best work. We trust them to find their own way to balance work and personal needs.
It was a conscious decision to not become a remote-first company based on the team's feedback and the vision that we had for the growth of the company as we wish to maintain an ever-growing culture that puts people at the center of our work.
At Valispace, going remote friendly means:
We continue to rely on

flexible working hours;

We

provide an office

for face-to-face interactions for those who prefer to meet, work and connect in person. We will continue to organize fun activities at the office;

At the same time,

we are aligned with a remote mindset

, which means that our processes and culture are built to support those who would like to work from home;

No fixed days for office attendance.

However, some in-person time is needed in pre-defined moments throughout the year.
Our key logic is based on the following three ideas: 
1. We are remote-friendly.
We make decisions on tools, processes and resources that are remote friendly by design.
Although we want to give the team the opportunity to work from wherever they want, the results from The How Are You? survey (as shown above) indicated that some in-person moments for the team is crucial for connecting the team. Connection breeds communication and communication breeds ideation – an essential element of a rapidly growing organisation.
So, to help us better communicate, collaborate and connect with our own teams and cross-functionally we've created what we call Boost Weeks. These are four pre-defined weeks – one per quarter – in which everyone is welcomed and expected at the office. Because of this expectation for the team to attend their boost weeks, Valispace will pay for the transport and accommodation to our office in Lisbon. 
It's important to note that in-person attendance is never mandatory, but highly recommended and we keep on creating conditions that organically attract teams to the office, such as afterwork drinks, team breakfast, fun office days and team building events. 
2. Our HQ and hiring focus is in Lisbon, Portugal.
Our main asset is our team. During the pandemic, expectations towards the boundaries of work shifted and we couldn't afford to stay behind. Therefore, we decided we would offer great a office experience and allow for more flexibility in terms of work location. We also created a Compensation Review Process and committed to reevaluate our compensation and benefits package regularly to ensure competitiveness.
3. Everyone is welcome to work at the office any time. 
Team members who live abroad might want to visit the office outside of the Boost Weeks. For these cases, we've defined Ad-hoc Trips to the Office where accommodation and travel are also covered by Valispace. This provides flexibility and comfort to team members who choose to live outside of Lisbon and Portugal but want to maintain a close relationship with their team members. 
For team members who commit to come to the office regularly, they can have their own fixed seat in the office and receive a commuting budget. 
Important thoughts for companies that want to go remote friendly
Designing a new way of work, from scratch, demands flexibility, creativity but also the ability to provide the resources needed for each team member to be successful every single day. Only then, will companies stay attractive and competitive. 
It's important to keep in mind that not everything is about salaries or how cool an office looks and feels. It's also about the way team members are heard and integrated into the design of processes and decisions that have a direct impact on their work.
The biggest lesson learned is that listening to the team along the way and staying true to our values always pays off.