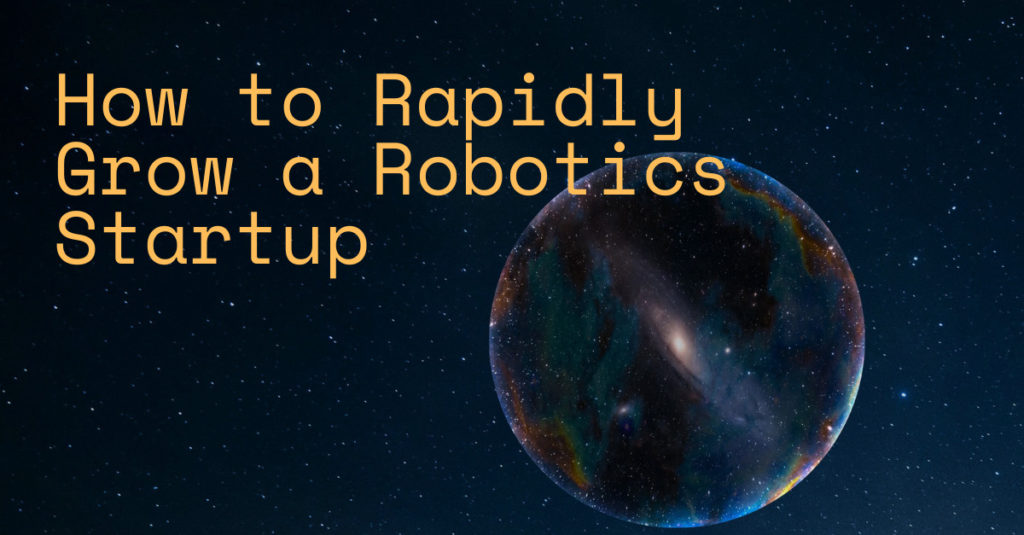 Startups in the area of robotics must keep up with the sector's ongoing development in today's ever-changing environment.
There are a number of important aspects that might contribute to a robotics startup's rapid expansion, such as the incorporation of cutting-edge technology and a knowledge of its target market. 
Starting with the basics of robotics engineering and moving on to the incorporation of cutting-edge technology, this article will examine the many routes that young companies might follow to experience explosive growth.
Understanding Robotics Engineering
The study and practice of engineering as it pertains to the creation, operation, and improvement of robots is known as robotics engineering.
It's an interdisciplinary field that draws from electrical, mechanical, and software engineering to make robots with flexible functionality. Mechatronics, control systems, and AI, are just some of the subfields that make up robotics engineering. 
Mechatronics is the study and practice of robots' mechanical, electrical, and control systems, and their design and integration. The development of algorithms that guide robots through their tasks is the primary focus of control systems. Robots can now make decisions and recognize patterns thanks to advancements in artificial intelligence, which focuses on creating algorithms and techniques to make this possible. Algorithms and methods are being developed in the field of computer vision to improve robots' ability to see and understand their surroundings.
Successful robotics startups require in-depth knowledge of robotics engineering. With this information in hand, new businesses can create cutting-edge goods and services that accurately address customer demands. In addition, knowing the ins and outs of robotics engineering can give startups an advantage over the competition by keeping them abreast of developments in the field.
Identifying Your Target Market 
Analysis of why it's crucial to identify your ideal clientele A robotics startup can't possibly hope to succeed without first understanding its potential customer base.
When you know what your target market wants and needs, you can create offerings that really hit the mark. When your customers are happy, they are more likely to buy from your startup. Robotics are used in several industries, including manufacturing, healthcare, logistics, and even military. They are also used in many stages of production, from assembly to quality control to packing. Robots have several applications in the medical field, including in the areas of surgery, rehabilitation, and general patient care.
Robots are used in the logistics industry for a variety of functions including goods handling and delivery. They play an important role in the defense sector, performing duties such as reconnaissance, surveillance, and bomb disposal. A thorough investigation of the market's demographics and purchasing habits is essential. When done properly, market research may help you get a deep understanding of your target market and the demands of your ideal customers.
Surveys, focus groups, and a review of the competition are all valid methods for this study.
You may gain a leg up on the competition and better serve your target market by using the data you get from market research to tailor your product or service to their wants and requirements.
Develop a Compelling Product / Robot
For a robotics firm to be successful, it must provide a compelling product or service. To set oneself out from the competition and attract clients, your firm needs a compelling proposition.
Understanding the demands and requirements of your target market is essential to creating a compelling product or service offer. Market research and consistent input from clients might help with this comprehension. You may boost client satisfaction and expand your business by catering to the desires and requirements of your target demographic. Constantly innovating your product or service to adapt to the shifting demands of your target market is essential for sustained success.
Research, development, and testing are all essential to achieving this goal. You can remain ahead of the competition if you consistently upgrade your offering.

Incorporating Emerging Technologies for Robotics Companies
For a robotics firm to be successful, its founders must always be aware of and adapt to the most recent technological developments. New technologies and innovations are being produced at a staggering pace in the robotics business.
A robotics firm may enhance its present goods and services and remain ahead of the competition in terms of innovation and market appeal by keeping up with these developing technologies.
Autonomous systems, cutting-edge machine learning and AI, and the incorporation of IoT technology are some of the current developments in the robotics sector.
The robots sector is predicted to expand rapidly over the next decade, thus these tendencies are likely to hold true. Startups in the robotics industry who integrate new technology into their offerings will be in the best position to profit from these shifts and expand quickly.
Incorporating new technology into your robotics startup's product and service offerings is essential if you want to remain ahead of the competition and expand quickly.
Depending on the situation, this can include incorporating cutting-edge innovation into previously existing features, enhancing those features' current functionality, or creating totally new goods and services.
Your startup's quick development and ultimate success depend on its ability to set itself apart from the competition, attract new consumers, and broaden its appeal in the marketplace.
Valispace Helps Robotics Startups Grow Faster
In terms of new technologies for developing robots, you really shouldn't look past Valispace.
Valispace is a low-cost engineering software solution and has already helping robotics startups successfully develop and launch for a multitude of industries and uses
One of its distinguishing features is its ability to connect requirements to engineering data, allowing development teams to track and manage needs in real-time while simulating and testing various system configurations. This can reduce delays and rework, saving time and money.
Valispace is also simple, allowing development teams to get up and running quickly. Valispace is designed to be scalable, allowing startups and scale-ups to scale up or down as their business evolves. It's software may be the appropriate fit for your needs if you're a startup or scale-up searching for a modern engineering software solution to streamline your development process.
Book a call with a Valispace expert today and see how it fits into the needs of your bespoke project.